Mold Removal in Glendale and Phoenix Metro
Discovering mold in your property can be as easy as seeing an infestation on your walls. However, sometimes, it takes a skilled professional to uncover a mold colony that has been growing behind the scenes. Mold thrives in damp, warm areas that are typically hidden away, like in attics, crawlspaces, sink cabinets, and drywall. The technicians at 911 Restoration of Glendale know precisely where to look for mold and mildew, stopping the infestation at the source. Since water damage is a common cause of mold growth, 911 Restoration specializes in both water cleanup and mold remediation in the Phoenix metro area. Technicians will give property owners free visual mold inspections to ensure they catch even the most concealed infestations. call 911 Restoration of Glendale at our number 623-289-2700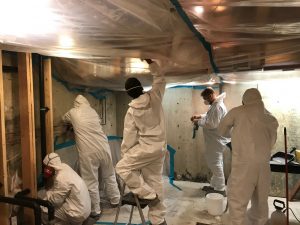 911 Restoration of Glendale's repair techs are skilled at conducting thorough mold remediation services in both residential and commercial properties.
Whether you own a home or a business within Phoenix or Peoria, you can be sure we will eradicate every trace of the infestation. Technicians use expert drying and dehumidifying techniques to make your property incapable of hosting a mold colony.
Along with water damage Glendale and mold removal Glendale services, the mold experts of Glendale will collect professional spore samples and test them to determine the species invading your property.
Exposure to mold spores can cause health issues in both people and pets. This risk makes access to expert mold decontamination crucial to every property owner, whether you live in Glendale, Phoenix, Peoria, or anywhere else in Maricopa County.
Ensuring the health of our customers is the most important part of the mold remediation process, and we are committed to keeping you and your family safe. So, call us at 623-289-2700 911 Restoration of Glendale to decontaminate your property thoroughly, and we will give you the peace of mind you need today!
Mold Experts in Glendale That Also Specialize In Water Damage
Water can invade your property in ways that aren't always easily observed, whether it be via a leaky pipe under your sink or a crack in your roof.
Regardless of how moisture enters the home or business, it is preeminent to remove it as quickly as possible to prevent mold. It can take as little as 24 hours for an infestation to begin to spread through your ceiling and walls.
Even if you do not suspect a mold infestation, you should call 911 Restoration of Glendale as soon as you notice water stains or dripping pipes so that technicians can check for both water damage and mold.
Repair techs are ready to make mold removal a part of the water damage restoration strategy on a moment's notice. They will provide you with an estimate on the mold repairs you need in real-time, so there won't be any surprises.
The sooner water and mold remediation efforts are implemented, the better your chances are of stopping an infestation. Quick service will limit your losses, saving you both time and money in the future.
Call the specialists at 911 Restoration of Glendale at the first sign of fungus in your home or business. The technicians will make all the repairs you need to obtain a full recovery today! Call us at 623-289-2700 and see how we can help you.
Get A Free Mold Inspection From A Restoration Company You Can Trust
If you are a property owner dealing with a mold problem, 911 Restoration of Glendale will provide you with a free visual mold inspection to determine the extent and source of the growth.
Cleaning mold from the surfaces of your home or business is only one part of the decontamination process.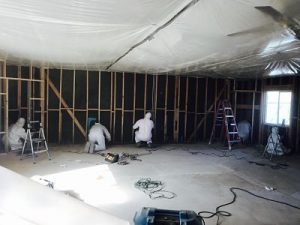 If any water issues are contributing to the problem, then they will be promptly repaired. Structural drying and dehumidifying services also need to be implemented to ensure the infestation does not return.
Since mold can create health risks for anyone exposed to the spores, professional sampling and testing procedures will be conducted. Technicians will send the spores to a third-party laboratory where experts will determine if they are hazardous.
By reaching out for regular mold inspections, you will maintain the integrity of your property, as well as the indoor air quality of your home or business. These preventative measures will ensure the health and safety of everyone who spends time indoors.
Call 911 Restoration of Glendale when you need professional mold removal services in your area, whether you live in Phoenix, Peoria, or any of the other surrounding cities. With proper mold remediation, our repair techs will turn your infestation into the Fresh Start you deserve! so contact us today at 623-289-2700
Serving the communities of Cave Creek, Glendale, Peoria, Phoenix, El Mirage, New River, Sun City, Sun City West, Surprise, Waddell and surrounding areas.