Disaster Restoration in Glendale and Phoenix Metro
Just like any other region, Glendale experiences natural disasters of its own. Depending on the situation, these weather patterns can create water damage, flooding, and other problems for owners of both residential and commercial properties. Thunderstorms, floods, landslides, and dust storms are all natural disasters specific to Phoenix metro that occur frequently enough to warrant preparedness. However, even the most vigilant property owners can still feel the impact of severe weather and may need the help of professionals. 911 Restoration understands that time is of the essence when dealing with natural disasters, especially if water is involved, which is why their office is open 24/7/365. If you experience a water restoration Peoria, such as a flood emergency, technicians will respond within 45 minutes of receiving your call. The repair techs in Glendale will rapidly respond and will arrive fully prepared to administer same-day, disaster restoration services.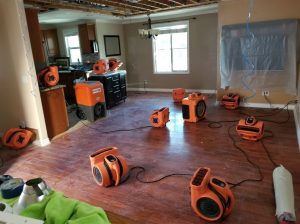 911 Restoration of Glendale is locally owned and operated, making their technicians experts in mitigating the specific issues that affect the area.
Our restoration company is IICRC certified, so customers can have full confidence in our ability to get you out of any disaster situation. Having earned this certification proves that we have reached the restoration industry's highest standards.
Along with being backed by the Institute of Inspection, Cleaning, and Restoration, the entire water mitigation company is licensed, bonded, and insured. When you work with us, you can be sure that you are protected under any circumstance.
Customer service is our top priority, and staff members will do whatever they can to make you feel safe during any disaster you may be experiencing. Call us at 623-289-2700 and please allow us to offer you a free visual inspection.
When you work with 911 Restoration of Glendale, you can expect to receive immediate assistance from a team that cares and understands your needs. So, call us the moment you need disaster restoration services, and we will start the repair process by giving the property owner a free visual inspection today!
Thunderstorms Create Flood Damage And Structural Issues
Property owners in Arizona regularly feel the impact of thunderstorms, which are known to occur all year round.
The technicians at 911 Restoration of Glendale are frequently called to administer disaster restoration services after thunderstorms have passed through and they know exactly how to handle such incidents.
Thunderstorms create torrential rain, flash floods, strong winds, and even hail, all elements that have the ability to severe damage your residential or commercial property.
A flash flood from a thunderstorm emerge quickly, within a few minutes, and often give little to no notice of developing. They often carry rocks, mud, and other debris that can crash into your property, causing structural and water damage.
If a flash flood causes water damage in your property, technicians will immediately use sump pumps and wet vacs to extract the bulk of the floodwater. Air movers and dehumidifiers will then be set up to remove any lingering moisture and get the area as dry as possible.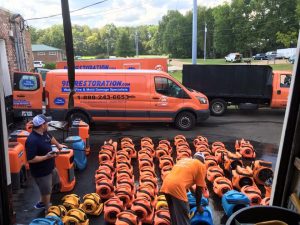 Thunderstorms are known to generate violet winds that can sometimes be strong enough to rip shingles off roofs and throw debris into homes and businesses. Not only will this lead to indoor water damage, but it can cause structural damages to your property as well.
The technicians at 911 Restoration of Glendale will implement a disaster restoration strategy that will mitigate every aspect of a thunderstorm, keeping you and your family safe.
Call us at 623-289-2700, 911 Restoration of Glendale when you need immediate assistance after a thunderstorm or any other type of flooding emergency. Our repair techs will provide you with the comprehensive services required to give you peace of mind during any disaster.
Understanding How Dust Storms And Landslides Can Affect You
Along with wind and flood damage, thunderstorms can also generate dust storms. The intense downward rushes of air caused by the storm spread along the ground, sending up enormous billows of dirt particles.
Dust storms are unpredictable and can spread across the Glendale landscape quickly. Although they are not guaranteed to occur with every thunderstorm, it is important to be alert.
Landslides can also happen as the result of a heavy rainstorm, and they are much more destructive. They can strike with little warning and travel for several miles, growing bigger and picking up more debris as they flow.
Whether it be dust or land, when large masses of earth and debris move at a high rate, it can impact your property, causing exceptional damage to both the structure and its interior.
Since a storm typically accompanies these phenomena, they can also give rise to leak and flood damage in Phoenix metro. Fortunately, our Glendale repair techs are qualified to mitigate all of these issues, keeping you and your family safe amid a disaster.
911 Restoration of Glendale is ready to react on a moment's notice when you encounter destruction caused by a dust storm or landslide. So, call our Arizona restoration companies technicians when you need immediate disaster restoration services, and we will turn your situation into a Fresh Start today! so contact us today at 623-289-2700
Serving the communities of Cave Creek, Glendale, Peoria, Phoenix, El Mirage, New River, Sun City, Sun City West, Surprise, Waddell and surrounding areas.