Commercial Water Damage Restoration in Glendale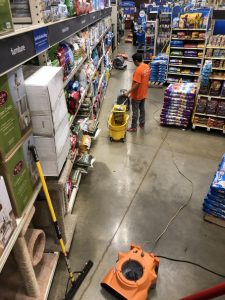 Even if you don't run your business out of your commercial property, owning a building is a job in and of itself. It is crucial to stay on top of the property maintenance, especially if it is essential to keep your property up and running all year round. 911 Restoration understands the specific issues that typically affect commercial real estate in Arizona. To keep your business open and operating, technicians are prepared to provide commercial water damage restoration services 24/7/365. The 911 water damage experts are accessible around the clock, making it possible for you to call us the moment you experience a water damage emergency, such as a leaky roof or pipe burst. Repair techs guarantee to arrive within 45 minutes of receiving your call, prepared to administer same-day services. call 911 Restoration of Glendale at our number 623-289-2700
The highly-trained technicians at 911 Restoration of Glendale are trained to mitigate every problem that may affect your commercial property, including water damage, flooding, emergency sewage cleanup, fire damage, and mold.
Customers can hire our repair techs with confidence, knowing they are entirely qualified to restore your property. Not only do we have decades of experience in the restoration industry, but the entire organization is IICRC certified.
On top of earning our IICRC certification, 911 Restoration of Glendale is licensed, bonded, and insured for the protection of all of their customers.
You never have to worry about taking a financial risk when you work with our restoration company. Property owners will receive a free visual inspection so that technicians can provide you with an estimate of the damages.
911 Restoration of Glendale is locally owned and operated, making them experts in remediating the particular problems affecting commercial real estate in the community.
When you require restoration services from a team that cares and understands your needs, call 911 Restoration of Glendale. Their technicians will show you that property damage can be the catalyst to the Fresh Start you need!
Commercial Water Extraction And Drying Services
Like any other property type, commercial real estate is prone to experiencing water damage. When dealing with moisture issues, it is vital to mitigate them right away.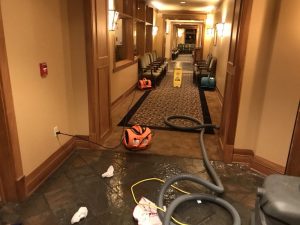 Leaky roofs, damaged water heaters, broken pipes, and toilet overflows are the most common water complications occurring in commercial properties.
Glendale frequently experiences thunderstorms that can cause torrential rainfall. Storms of this magnitude can cause roof leaks, which can then create indoor water and mold damage.
Floods can also cause water damage inside your commercial property. If the water pressure in your pipes becomes too high, the seals on your water heater can break, and water can come rushing out, flooding the area.
A broken pipe can also cause flood damage. Along with water pressure irregularity, cold weather can also cause pipe bursts. When the water inside the pipe freezes and expands, it can burst out once it has thawed.
Frozen pipes are not the only plumbing issue you may experience. A clog in the system can lead to a sewage backup, which creates toxic flood damages. Sewage spills need to be handled with care as to not spread hazardous waste throughout the property.
If you find yourself dealing with any of these circumstances, you can depend on 911 Restoration of Glendale for immediate commercial restoration. By implementing emergency water extraction and drying services, technicians will get your property clean and dry before any structural damages and mold appear.
You can trust our repair techs to give you peace of mind as soon as we arrive on the premises. So, call the water mitigation company you can depend on to fully restore your commercial property from any water disaster today! so contact us today at 623-289-2700
Emergency Water Damage Restoration Right When You Need It
911 Restoration of Glendale responds with urgency when customers call reporting any water-related problem because moisture can create costly damages in a short time.
There is no time to waste when experiencing a water disaster, which is why our repair techs always stick to their 45-minute guarantee, no matter what time you call.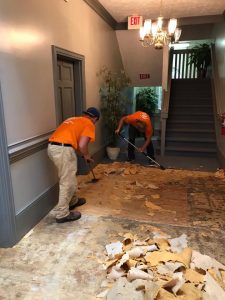 For situations that are not active emergencies, such as repairing the aftermath of a fire or eradicating a mold infestation, customers can still expect to receive timely services.
A staff member will schedule you a free visual inspection at your earliest convenience and guide you on preparations you can make before the experts arrive.
Once the commercial restoration is figured out, customers may still have questions. Usually, property owners want to know what the cost to mitigate a water intrusion will be or whether or not we accept their insurance.
When it comes to pricing, 911 Restoration of Glendale consistently keeps their prices competitive and services affordable. We also accept all types of insurance.
If you need assistance figuring out what services are covered under your insurance policy, we will provide you with a free insurance consultation. A staff member will help determine which coverages you are entitled to receive and even submit your insurance claim for you.
911 us at 623-289-2700 Restoration of Glendale wants to make the commercial restoration process as easy as possible for the entire community. Call the professionals today and let us get started on giving you the Fresh Start you deserve!
Serving the communities of Cave Creek, Glendale, Peoria, Phoenix, El Mirage, New River, Sun City, Sun City West, Surprise, Waddell and surrounding areas.