Sewage Backup Cleanup in Glendale and Phoenix Metro
It is safe to say that a sewage backup in your home or business is one of the most unpleasant situations you will ever have to deal with as a property owner. From the foul odor to the health hazards, the whole ordeal is a mess. However, when you have 911 Restoration standing by, you won't ever have to get your hands dirty. Technicians are available 24/7/365 to implement sewage cleanup services on a moment's notice. They will respond with emergency sewage restoration within 45 minutes of receiving your call. Property owners receive free mold inspection Phoenix that allow the repair techs to determine the extent of the sewage water damage and formulate an estimate. Customers can have complete confidence that the entire water cleanup company will do whatever it takes to decontaminate their property after a sewage backup.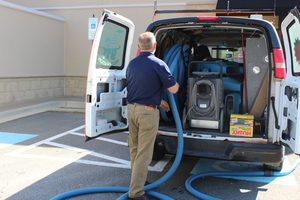 911 Restoration of Glendale has earned their IICRC certification from the Institute of Inspection, Cleaning, and Restoration. By being certified by the IICRC, we have proved ourselves as reaching the restoration industry's highest standards.
We want all of our customers in Phoenix metro to have total peace of mind when they hire 911 Restoration of Glendale, which is why on top of our IICRC certification and decades of experience, 911 Restoration of Glendale is also licensed, bonded, and insured.
The staff is here to answer all your questions, whether you have concerns about the sewage cleanup process, preventative maintenance, or filing your insurance claim.
Whether you live in Glendale, Phoenix, Peoria, or anywhere else in Maricopa County, call the restoration companies Arizona that cares. 911 Restoration of Glendale will show you that it is possible to turn sewage water damage into a Fresh Start!
Complete Property Sanitization After A Sewage Backup
There are three different classifications of water that range from categories one to three, with three being the most hazardous.
A category three water is also known as black water or sewage. It is filled with chemicals, bacteria, human waste, and other toxins that can significantly affect your health upon contact.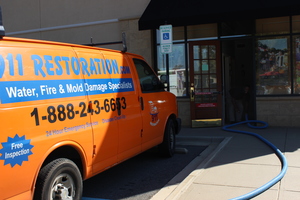 Sewage water damage needs to handled by the professionals at 911 Restoration of Glendale to ensure that you or loved ones stay safe throughout the sewage restoration process.
When technicians are called to administer sewage cleanup services, they will wear in full protective gear. By setting up containment barriers, repair techs will confine the sewage spill and prevent it from spreading.
The sewage backup team will use extraction equipment that allows them to remove and dispose of the black water safely and thoroughly. Once we have contained the raw sewage spill, then we can focus on sanitizing the area and getting rid of any lingering odors.
The faster technicians conduct sewage restoration, the better the chances are of preventing subsequent issues from the sewage overflow, such as structural issues, water damage, mold, and health hazards.
911 Restoration of Glendale is ready to respond immediately to your sewage emergency, no matter what time you call. So, contact us as soon as you need raw sewage cleanup services, and we will get your property sanitized today!
A Reliable Water Cleanup Company That Provides Emergency Sewage Restoration
Repair techs treat situations involving toilet water damage as emergencies. It doesn't matter if you call during the day or in the middle of the night; customers never have to wait longer than 45 minutes for assistance.
A service agent will stay with you on the phone while you wait for sewage cleanup services. They are happy to talk you through anything on your mind, whether it's about repair work, pricing, insurance, or any other concerns.
Many customers have questions regarding the cost to mitigation a water intrusion. Technicians can solve this on-site by giving you an estimate for your specific situation after they have conducted the initial inspection.
Along with keeping our prices affordable, 911 Restoration of Glendale works with all insurance companies and understands exactly what information your provider needs when you submit your claim.
If need be, a staff member will provide you with free insurance consultation. During the meeting, they will go over your policy with you to determine what coverages you are entitled to receive for the sewage water damage.
Keeping you feeling positive about the situation is the primary goal. Call 911 Restoration of Glendale today. Technicians will show you that through high-quality, sewage restoration and customer service, a sewage backup can actually be the catalyst to a Fresh Start!
Serving the communities of Cave Creek, Glendale, Peoria, Phoenix, El Mirage, New River, Sun City, Sun City West, Surprise, Waddell and surrounding areas.