Sanitization Services in Glendale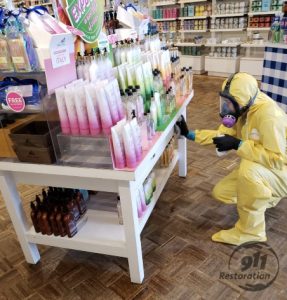 The coronavirus pandemic has created an uncertain future for Glendale. While we at 911 Restoration are confident our community will thrive on the other side of this crisis, the path ahead remains unknown. It is up to each individual to stay informed, adhere to the advice of health officials, and offer each other our support and understanding. By taking steps every day to protect yourself and your community, you play an essential role in moving beyond this pandemic.
Coronavirus spreads at an alarming rate. One major factor is the fact that symptoms are not immediately apparent. While some individuals show signs of infection within two days of exposure, others may take up to two weeks. It is even possible for someone to carry the virus while never showing symptoms at all. As a result, even the most conscientious among us risk spreading disease everytime they go out in public.
When a member of your household goes out into the community, you must assume they are exposed to coronavirus. The goal of this assumption is not to create panic, but to inspire vigilance. For the sake of yourself and your family, disinfect your home thoroughly. Be especially careful if anyone in your household is vulnerable to severe infection. While most survive coronavirus, this is a potentially deadly pandemic for high-risk individuals.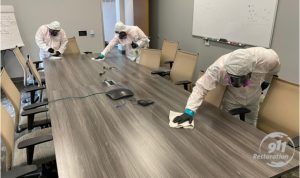 If you own an office, retail store, or any other commercial facility, remember that every household in Glendale faces the same threats as yours. Because members of the public encounter one another on your property, you must practice regular deep cleaning. At a time of great anxiety, your staff and customers depend on you to provide peace of mind. You also set the tone for those around you. Your diligence inspires others to be just as careful. And our collective caution is the key to emerging from this pandemic swiftly and safely. 
We at 911 Restoration Inc understand the stress you're under as you do your best to maintain a healthy home and business. Sanitization and disinfection processes take time and are especially burdensome when you already have other worries on your plate. If you feel overwhelmed by the demands of property ownership, let us help. We provide expert sanitization and disinfection for properties throughout Glendale and the surrounding area. Our technicians are all trained to follow CDC and EPA protocols for both residential and commercial properties. No matter what type of building you own, you can trust our crew for thorough, deep cleaning and compassionate service.
These are challenging times, but we're looking forward to a Fresh Start. If we can help you find peace of mind in the midst of this crisis, please call 911 Restoration near me today.