Fire Damage Restoration in Glendale and Phoenix Metro
The aftermath of a fire is just the beginning of your recovery. Even though it may seem overwhelming, 911 Restoration of Glendale knows precisely what steps to take to get you back on your feet again. Our fire restoration technicians have been mitigating fire damage in West Valley for years, and they understand exactly how the climate affects the fire cleanup process. The dry, hot temperatures can only exacerbate fire damage, but when 911 Restoration gets on the scene they will quickly assess the situation and come up with a fire, and smoke damage restoration strategy specifically made for you. Not only do fire and smoke damage need to be cleaned up, but the floodwater caused by the hoses needs to be immediately extracted, as not to risk mold and other structural issues. Call us at 623-289-2700 and please allow us to offer you a free visual inspection.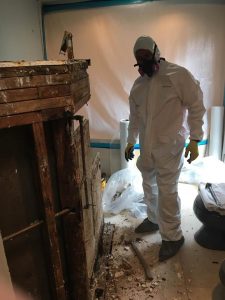 911 Restoration administers fast and thorough fire damage restoration services while still keeping your home and belongings in mind. By using techniques like soda-blasting, we can get the soot and ash out while keeping your personal items intact.
If you have any hesitations, technicians make it easy for you to decide by providing property owners with a free visual inspection and estimate. This initial surveillance allows you to have all the information before being committed to anything.
We know you have been through a lot and our staff just wants to make this recovery period as easy on you as possible. Customers can rely on us for anything, from cleaning dishes to direct insurance billing.
When a fire breaks out in your home or business in Phoenix or surroundings, the only thing that matters is that you and your loved ones stay safe. Flames can engulf a property within five minutes of ignition, making it crucial to act fast and get out.
Once the flames have been quelled, call 911 Restoration of Glendale. We are the Phoenix metro fire information center you can trust to answer your questions and provide you with the restoration help you need to make a full recovery. call us 623-289-2700
Keep Your Property Protected Against Wildfires
The hot, arid climate of Glendale makes it easy for wildfires to spread, especially coming off a recent drought. The dry brush and dead trees act as kindling, making it possible for a fire to crop up over the desert landscape.
Arizona experiences more than 1,500 wildfires every year and, although they range in severity, some of these fires can have a devastating impact on your home or business.
By preparing your property against fire and smoke damage, you can lessen the impact of wildfire and, more importantly, keep you and your family safe. Some easy ways you can prep your home is by creating a safety zone around the property that is at least 30 feet wide.
There should be no vegetation or flammable material in the safety zone, and a clear path to your property should be visible for firefighters and other emergency vehicles.
911 Restoration of Glendale has decades of experience implementing fire clean up after wildfires. Their technicians have seen the destruction first hand and understand all that goes into remediating these situations.
The smoke damage from a wildfire can be even more disastrous than the flames. Billows of smoke can engulf your entire property, not only causing all your belongings to smell like a campfire but leaving a fine layer of soot and ash everywhere.
Our technicians will execute a fire cleanup strategy that will get your property looking and smelling fresh and clean. Repair techs will remove smoke stains, soot, ash, and any odor created by the wildfire.
Call the Glendale restoration company you can trust to recover your property from the full effects of a wildfire. Let Disaster restoration services LLC turn your fire disaster in a Fresh Start today! Please call us at 623-289-2700
A Water Mitigation Company That Specializes In Fire Damage Restoration
When the fire department extinguishes a fire in your property, you may be shocked at the amount of water damage created by the fire hoses.
You can be surprised to learn that it can take hundreds of gallons of water to just put out a small kitchen fire, let alone an entire structure.
With this amount of flooding left behind, it is crucial for customers to have a restoration company on call that can handle every aspect of the fire cleanup, from washing away smoke stains to extracting floodwater.
911 Restoration of Glendale specializes in full-service restoration work, meaning that they are prepared to shift gears when they are on the job to tackle an unexpected obstacle right away.
If technicians are called for fire damage restoration, they know that they are also most likely going to be confronted by a flooding situation. By bringing comprehensive restoration gear, customers can be confident that we will clean ash, remove smoke damage, extract water, and dry the area thoroughly.
Fires also usually cause structural damages, depending on where it originated and for how long it burned. Fortunately, repair techs are qualified to start remediating structure issues the same day they arrive.
Call 911 Restoration of Glendale as soon as the fire department has deemed your property safe to reenter, and our technicians will get the fire cleanup services going right away! Call 911 Restoration near me at 623-289-2700 and see how we can help you.
Serving the communities of Maricopa County, Reconstruction Services and surrounding areas.