About Us
Owners Who Put Their Community First
911 Restoration of Glendale is owned by Philip Reese, an active community member, self-described family man, and licensed contractor.
Originally from Lancaster Pennsylvania, Philip moved to Arizona with his wife and their daughter in 2014. He quickly came to love the people and places of the Glendale area, and when he decided it was time to start his own business, he chose to open a franchise that would allow him to serve his neighbors in their toughest times.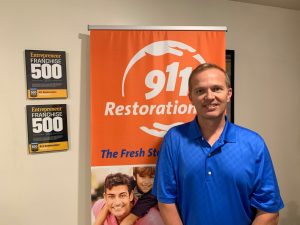 As owner and operator of 911 Restoration of Glendale, Philip is able to provide relief for both home and business owners as they face any disaster. The company provides water damage restoration, fire and puffback cleanup, mold remediation, and disaster restoration. Philip ensures that his IICRC certified team meets the highest standards in the industry and consistently offers a caring and compassionate attitude in addition to quality service. 
Philip's professional background has taught him plenty about guiding a team to success for the benefit of the customer. He worked as a regional manager for Lowe's and was employed in the commercial division at Terminix. He also held the position of Senior Manager of Regional Commercial Sales of the West at PODs. In all of these jobs, Philip had the opportunity to work with contractors, facility managers, business owners, employees at all levels, and—most importantly—customers.
These experiences have given him unique insight into the importance of professional collaboration. As a leader in the workplace, Philip prioritizes team building. He knows that in order to give the best to his customers, he needs to recognize the best in his employees and champion their growth. 
Philip's commitment to community is even evident in his personal life. He and his family actively seek ways to contribute their best to their neighbors in the Glendale area. His wife even volunteers for the PTSA, works in a local school, participates in fundraising efforts, and helps special needs children. The Reese family is dedicated to building a better world…
…and that includes rebuilding the devastated properties of their neighbors. No matter what you've been through, you can count on Philip and his team to work with your best interests in mind.
Providing Emergency Restoration Service 24/7/365
In addition to providing excellent service, 911 Restoration of Glendale takes care of you in any disaster with 24/7 availability and prompt response times. Trained and certified technicians are available to provide emergency service at any time of the day or night, and Philip's team arrives at your door within 45 minutes of your call. 
Every disaster restoration technician has been extensively trained to resolve your property damage. Whether you've been struck by water, fire, or any other element, they tackle everything from the initial cleanup services to final repairs, structural testing, and mold inspection. Their ultimate goal is to discover the Fresh Start opportunity in your property disaster and restore your home or business to better-than-new condition. 
There is no question that building such a skilled team takes discipline. As the business owner, Philip is no stranger to hard work and commitment. Even before building an impressive career, he proved his dedication to excellence when he put himself through school at American University in Washington DC, working full-time during the day and taking classes at night. He now instills that same drive and sense of personal responsibility in his team, so that you as a customer can count on fast, exceptional property restoration services. 
Compassionate Care Sets 911 Restoration of Glendale Apart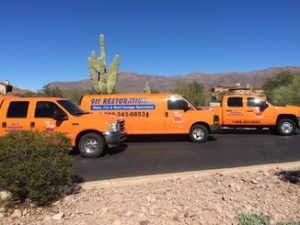 Philip and his team don't just promise excellence and speed. They are also committed to providing truly compassionate care for their customers.
What does this mean for you?
It means they start every job by imagining themselves in your shoes. They treat your property as if were their own, working with the same sense of urgency and attention to detail they'd employ if they were recovering from a fire or flood. They also consider what it takes to give you peace of mind in this challenging time, from clear communication and transparent service to a free insurance consultation to spare you the complicated mess of navigating your insurance coverage.
This attitude of support isn't just something Philip's team puts on to make a sale. Rather, it's a genuine trait cultivated in every member of the staff. In fact, compassion and the Fresh Start philosophy are company values for all 911 Restoration locations across the nation. And they're Philip's values, too. That's part of what inspired him to open a 911 Restoration franchise in his community. He wanted to be a part of an organization that places a high priority on positivity, and he wanted to pass that experience on to his customers.
That's why you can expect nothing less than personal attention and second-to-none professional standards when you turn to 911 Restoration of Glendale for any of your property cleanup or restoration needs. Philip and his team are always here for you, eager to give you peace of mind and the Fresh Start you've been waiting for.