Water Damage Restoration in Glendale and Phoenix Metro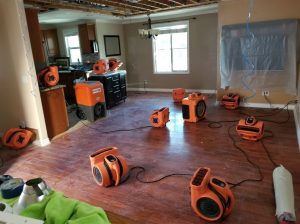 Despite Glendale's dry, arid climate, there are still weather patterns that cause flooding, structure issues, and water damage inside homes and businesses in the area. 911 Restoration of Glendale is locally owned and operated, so their technicians understand the specific water damage restoration services that property owners need. If you need to know what to do when your house gets flooded, or you find yourself dealing with a pipe burst emergency, you can call 911 Restoration and receive immediate assistance. Technicians are available 24/7/365 serving the West Valley neighborhood, so you can call us the moment you need water damage restoration. It doesn't matter what time you need help, the Glendale repair techs will arrive at your property within 45 minutes, fully prepared to execute a water cleanup plan that is sure to recover your home or business. call 911 Restoration of Glendale at our number 623-289-2700
911 Restoration of Glendale is the water mitigation company that residents of Maricopa County can depend on around the clock, whether you live in Glendale, Phoenix, Peoria, or any of the other surrounding cities.
The water damage specialists of Glendale are backed by the Institute of Inspection, Cleaning, and Restoration and has earned its IICRC certification from the institute. This certification means that our restoration company has reached the highest standards in the industry.
Along with being highly certified, 911 Restoration of Glendale is licensed, bonded, and insured for the protection of their customers. We want you to know you will be completely taken care of when you hire our water damage, cleanup team.
Property owners receive free visual inspections that allow the technicians to determine the extent and source of the water damage, as well as formulate an estimate for the leak or flood repair services.
Call the water damage restoration company you know cares and understands your needs and our staff will make sure you receive the peace of mind that you deserve! call us 623-289-2700
Understanding Thunderstorms And The Water Damage They Can Create
Thunderstorms occur year-round in Arizona, but the peak season is during June through September when heavy rain, powerful winds, flash floods, and even hail can take place.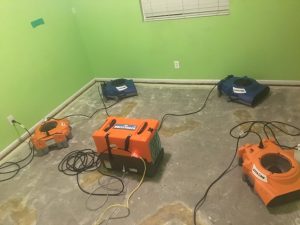 When a thunderstorm manifests, torrential rainfall is produced for brief stints that last anywhere from 30 minutes to an hour. Sometimes the dry soil is not able to absorb the rain in this short time and causes flash flooding.
Flash floods can infiltrate your property, causing significant flood damage. Flooding situations require immediate water damage restoration, which is precisely what 911 Restoration of Glendale is prepared to implement.
Technicians will conduct water extractions to remove the bulk of the floodwater and use air movers and dehumidifiers to get rid of any lingering moisture. Getting your property as dry as possible is integral to the restoration process.
Since thunderstorms typically occur in the summer when temperatures are hot, indoor mold can grow inside your property within 24-48 hours under these damp, warm conditions.
Although technicians implement speedy water damage repairs, mold may still form. If we find mold, the repair techs will mitigate both the mold and flood damage affecting in the property.
Call us at 623-289-2700 911 Restoration of Glendale when you need assistance after a thunderstorm, or any other water disaster and technicians will implement comprehensive, repair services guaranteed to restore your home or business.
Emergency Response And Repairs For Pipe Bursts
Nights in the desert usually drop into temperatures just below freezing and can get into the 20s during the winter. When it gets this cold pipes can freeze, leading to pipe bursts and flooding issues.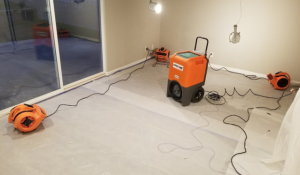 If there is water inside the pipe when it freezes, the water will turn into ice, which can expand to the point of breaking the metal. As soon as the water begins flowing again, it will spray out and flood the area.
Pipe bursts need to be repaired right away to prevent significant flood damage and save your belongings from being overwhelmed by the water.
When customers call 911 Restoration of Glendale, along with immediately sending technicians to your property in the Phoenix metro region, service agents will walk you through actions you can take while you wait for help to arrive.
For example, when a customer in Phoenix called us needing repairs for burst pipes in her home, a staff member told her how to instantly stop the water flow by turning off the main water valve.
This action contributed to saving many of her belongings, as well as minimizing the flood damage created in her home.
Technicians were able to initiate water damage restoration services as soon as they got on the scene, getting her home clean and dry as if the water disaster never took place.
Call 911 Restoration near me the moment you need emergency flooding repairs or assistance for home or business water leaks, and their technicians will turn your water disaster into a Fresh Start today! Call Disaster restoration services llc at 623-289-2700 and please allow us to offer you a free visual inspection.
Serving the communities of Cave Creek, Glendale, Peoria, Phoenix, El Mirage, New River, Sun City, Sun City West, Surprise, Waddell and surrounding areas.