Water Damage Restoration
911 Restoration of Glendale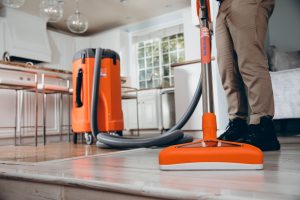 Even though 911 Restoration of Glendale is known for its water damage services, the restoration company also specializes in mold removal, fire damage restoration, sewage backup cleanup, and disaster restoration in West Valley. When you find yourself involved in a situation involving any of these issues, you can trust that 911 Restoration of Glendale will provide you with full-service restoration work that is guaranteed to restore your home or business.  When customers call our office reporting a water emergency, such as a pipe burst or indoor flood, technicians will respond within 45 minutes. As soon as technicians get on the premises, they will give the property owner a free visual inspection, allowing them to determine the extent of the damage and formulate an estimate.
911 Restoration is a nationwide restoration company, but each branch is locally owned and operated, making the staff experts on the particular issues that affect Maricopa County and cities like Glendale, Phoenix, and Peoria. Call us at (623) 289-2700 and allow us to offer you a free visual inspection.
The technicians understand the complications that can arise from natural disasters in this region, such as thunderstorms, flooding, wildfires, dust storms, and landslides.
When property owners need same-day assistance after a natural disaster or any other restoration emergency, technicians will arrive fully prepared to get to work immediately.
If your circumstances are not necessarily considered an emergency, such as mold infestations or the aftermath of a fire, staff members will still schedule an appointment with our technicians at your earliest convenience.
All the technicians are IICRC certified and licensed, bonded, and insured, so customers can have complete confidence that they are protected when they work with our repair team.
At 911 Restoration of Glendale, we offer a Fresh Start with our comprehensive selection of property damage restoration services, including but not limited to:
Whether you're a Glendale homeowner or business owner, 911 Restoration of Glendale is your Fresh Start! We'll communicate with you throughout the entire process, help answer questions related to insurance, and restore your property to its pre-damaged condition. One of our IICRC-certified teams is dispatched within 45 minutes of your call! Contact us today, and one of our friendly representatives will assist you in finding the nearest Glendale location.
Water Damage Restoration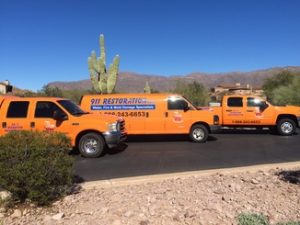 When dealing with water damage restoration issues, 911 Restoration of Glendale knows that time is of the essence. The longer the moisture sits on the surfaces of your property, the higher the chances are of rot and mold forming.
Whether you need immediate flood repair services, leaking ceiling repair, or overall water cleanup service in Glendale and surroundings, customers can fully trust in our ability to extract the water and completely dry the area thoroughly.
Expert technicians will thoroughly survey the area to find every trace of water damage and stop it at the source to prevent future leaks and floods from affecting your home or business.
Glendale frequently feels the impact of thunderstorms and freezing nighttime temperatures that can lead to roof leaks, pipe bursts, and indoor flooding. Along with inclement weather, internal issues, such as an AC unit leaking water inside or a busted water heater, can also cause water damage.
Our repair techs in Glendale have decades of experience administering water mitigation services for these problems and more, making us your trusted water damage restoration and mold remediation company.
Call 911 Restoration of Glendale the moment you need emergency water cleanup and repair techs will give you the peace of mind you need to get through any situation. Call us at (623) 289-2700 and see how we can help.
Service area map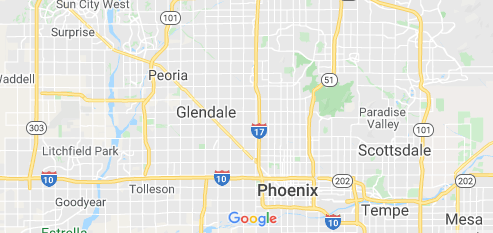 Sanitization Services & Disinfection Solutions
The spread of coronavirus has reached pandemic status worldwide. While researchers are working on the vaccines, we can contribute by maintaining our personal hygiene.
For property owners, they can go even further by working to ensure their buildings remain sanitized according to protocols. Maintaining these protocols is how the people who come and go will stay as protected as possible. For this reason, 911 Restoration of Glendale delivers sanitization services in addition to various disinfection solutions for both residential and commercial properties. All of our technicians maintain their training to ensure full compliance with all current CDC and EPA protocols in an effort to provide optimal results with our sanitization services. As part of the Glendale community, you can depend on us to work towards your peace of mind.
Mold Removal
Water damage can quickly escalate into a mold problem if it is not remediated quickly. It only takes 24 hours after being exposed to moisture for mold spores to begin growing into an infestation.
The repair techs at 911 Restoration of Glendale have been conducting mold removal long enough to know how important it is to be prompt under these circumstances.
When technicians arrive on the scene, they will do so much more than begin cleaning mold off the surfaces of your home or business. They will conduct a free visual mold inspection to ensure they find the cause of the infestation and cut it off at the source.
If water damage is the reason for the mold problem, then technicians will also administer any leak or flood cleanup needed to recover your property fully.
Customers can have complete faith that our mold experts will decontaminate your residential or commercial property from even the most severe mold infestations.
So, call 911 Restoration of Glendale at the first sign of water damage or mold, and we will get the repair process started with a free mold inspection Phoenix today, our number is (623) 289-2700!
Sewage Backup and Cleanup
When a sewage backup occurs on your property, there is no reason for you to attempt to clean up the mess on your own. Instead, call 911 Restoration of Glendale to receive sewage restoration from trained professionals.
Sewage is highly toxic and can affect the health of you, your loved ones, and even your pets. When technicians arrive on the scene, they will immediately contain the sewage spill. It is crucial to remove the waste as efficiently as possible and dispose of it safely and securely. By using powerful extraction machines, they will remove the bulk of the sewage water. Then, they will go in with special cleaning agents to sanitize the space and get rid of any lingering odors. 
911 Restoration of Glendale is a water cleanup company that deals with all kinds of water damage, including sewage. Call us as soon as a sewage backup occurs, and we will make your property clean and safe again.
Fire and Smoke Damage Restoration
The aftermath of a fire is just the beginning of the restoration process. 911 Restoration of Glendale will be there for you to pick up the pieces. We'll conduct any smoke and fire cleanup you need.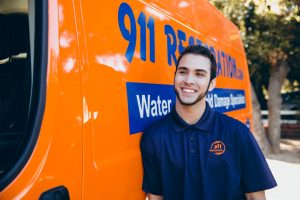 Fire, smoke, soot, and ash can spread throughout the entire home or business.
Technicians will arrive as soon as the fire department has put out the flames. They will survey the damages and come up with a fire damage restoration strategy.
We always expect to make water damage repairs along with the fire restoration Glendale. We're confident we'll make your property look even better than it did before the fire took place.
Call the restoration company you can trust to make all the repairs at (623) 289-2700.
Disaster Restoration
Arizona experiences natural disasters specific to the arid, desert climate that can be just as intense as sub-tropical regions.
Thunderstorms are common weather phenomena that bring torrential rain, strong winds, and even hail.  All of these elements can influence the structural integrity of your home or business. When the water is not able to seep into the hard ground, it rolls off and can turn into a flash flood.
Flash floods happen quickly, giving residents little to no notice to prepare for the impact. If you have cracks in your property's foundation, the water can cause flood damage that requires professional disaster restoration services. 
911 Restoration of Glendale can administer disaster restoration at a moment's notice. Call our disaster restoration services llc technicians as soon as you need disaster restoration services, day or night.
Commercial Water Damage Restoration
There are particular issues that affect residential and commercial properties. Whether you own a warehouse, apartment building, restaurant, or retail space, you are at risk of being impacted by these issues.
Water damage Glendale is the most common problem that owners of commercial real estate are confronted by, which typically comes from leaky roofs, water heater leaks, sewage backups, and pipe bursts.
Efficient water extraction, drying, and dehumidifying techniques are essential to successful commercial water damage restoration services. We never will make customers wait when they are in a situation that requires professional help. Keeping you feeling positive throughout this experience is integral to the repair process. Our staff does this through excellent customer service.
Call the IICRC certified staff at 911 Restoration of Glendale today at (623) 289-2700, and our technicians will get your property in the Phoenix metro back up and running again in no time.
Serving the communities of Cave Creek, Glendale, Peoria, Phoenix, El Mirage, New River, Sun City, Sun City West, Surprise, Waddell and surrounding areas.