Mold Removal in Surprise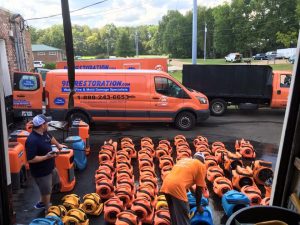 Do you have mold growing in your home or business in Surprise? Mold can damage your property and threaten your health. Fortunately, you can eradicate fungal growth with the IICRC certified mold removal pros at 911 Restoration of Glendale. Reach out to us 24/7/365 to get a Fresh Start. Mold remediation techs can reach your property within 45 minutes to:
Offer You a Free Visual Mold Inspection for Property Owners Only

Pack Out and Store Your Un-Infested Belongings

Isolate Any Areas with Mold Growth

Complete Total Mold Decontamination

Repair Damage Caused by Fungal Growth

Remove Odors Associated with Mold
All signs of a mold infestation can be erased with mold cleanup in Surprise. The mold remediation techs at 911 Restoration of Glendale are licensed, bonded, and insured to handle any type of mold removal in Surprise. You can even count on us to take care of the removal of toxic molds, including black mold.
Let us go over your unique needs right now with a mold inspection in Surprise. Techs will personalize your mold decontamination services to make sure you get back your peace of mind.
How Do You Know If You Need Mold Remediation in Surprise?
You may suspect that you have a mold infestation in your property after you experience a water damage emergency like a flood or a pipe burst. Many property owners discover that they need mold remediation in Surprise if they discover strange discolored spots on their walls or if they notice an odd odor with no discernable source.
If you suspect that you have a fungal infestation, you can reach out to the mold cleanup professionals at 911 Restoration in Glendale. Licensed, bonded, and insured mold removal techs can check your property over with a mold inspection.
Mold cleanup techs can find mold even in hard-to-reach places, like under your floors and behind your walls. They can determine whether or not you need mold decontamination in Surprise, and, if so, they can begin providing you with same-day mold removal services.
What Causes Mold Infestation in Surprise?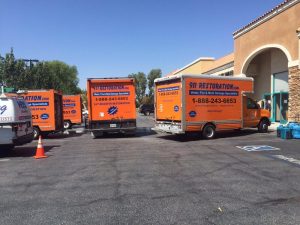 We briefly mentioned some of the causes of mold outbreaks in Surprise. Fungal growth can occur anywhere with elevated moisture levels. We often see mold infestations after a property experiences a flood, pipe burst, or sewage backup.
If you are dealing with a water damage emergency and a mold infestation, you can get the help you need from 911 Restoration of Glendale. We are a full-service property restoration company. This means that techs can:
Handle Water Extraction After a Flood

Completely Dry and Dehumidify Your Property

Repair Water Damage 

Take Care of Mold Decontamination

Make Sure Your Property Is Fully Renovated and Restored
Getting fast help with water extraction may even reduce the odds that you'll need mold cleanup services. Contact us right now to ensure your property is quickly returned to the perfect condition that you deserve. Mold remediation techs can perform a mold inspection for you right now.
Servicing the cities of Cave Creek, El Mirage, Glendale, New River, Peoria, Phoenix, Sun City, Sun City West, Surprise, Waddell… and surrounding areas.