Can Your Dishwasher Lead to Fire Damage?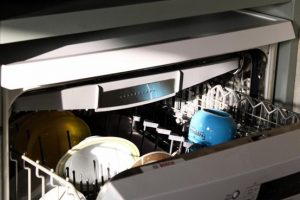 When it comes to house fires, you will be surprised to know that kitchen appliances turn out to be the most common cause of home fires. More often than not, these fires are caused by mistakes that happen due to human error instead of the gadget being faulty.
However, there are also chances that a fault causes those fires in the device or appliance. So, let's take a look at which appliances are most likely to catch fire by themselves.
Did you know that the second most common appliance to catch fire is your dishwasher? As we all know, water is an excellent conductor for electricity, and the dishwasher combines water and electricity to get your dishes clean, making it the perfect opportunity for a fire. It is best not to leave your dishwasher unattended for long periods.
Ever noticed the crazy heat coming out of your dishwasher once you open it after the cycle? The heat is really strong because your dishwasher contains certain heating features to dry your dishes. So, every time you use the dishwasher, these properties or functions are in action, which means that any old or unreliable dishwashers could begin a fire.
As mentioned before, do not make the mistake of leaving your dishwasher unattended. Also, don't leave it on and go out for a long time – it is a huge risk.
How Can You Prevent Dishwasher Flames?
While many other kitchen appliances are prone to a home fire, a dishwasher is also on the list. This could be due to a fault at your end, or it could be due to faulty properties, shifts in voltage, wiring issues, etc.
One of the main causes of dishwasher fires is wires coming in contact with water. This is why you must ensure there are no leaks internally and keep up with regular maintenance on your dishwasher.
Tips to Prevent Dishwasher Fires
Read the manufacturer's guide and make sure to follow all safety tips and tricks.
Stay updated with the dishwasher's website for any new information.
Get your dishwasher registered on the official website for any recall notifications.
Make sure to turn off your dishwasher before leaving the house or going to bed, don't leave it unattended.
Do regular maintenance checks and repair any broken components.
Also, check all plastic areas on the dishwasher since the plastic tends to cause leaks on the machine's wires.
Do not hesitate to consult a professional if something doesn't feel right.
It is recommended that you use a proper socket instead of extension wires to plug in your dishwasher.
Make sure to plug in your dishwasher to a socket or power outlet that is made to deal with heavy-duty electrical appliances.
Check your cords frequently as it is not safe to have any running cords in the open since they can be damaged easily.
Your dishwasher also requires cleaning; make sure to keep it clean and protected and prevent any leaks.
It is important to install a fire alarm or a smoke alarm wherever the dishwasher is located, so you can stay alert in case of a fire.
If there is ever a fire, it is also essential that you keep a fire extinguisher nearby.
Safety Guide In Case of Fire
Don't wait out electrical appliances for too long. It is best to replace them before they stop working.
Have an emergency fire drill planned out with a proper escape route to avoid mishaps or severe damages.
Do not ever use water to try to extinguish a fire; it will only make it worse.
Make sure to keep flammable items out of the children's reach.
It is also not recommended to use water to blow out candles.
Invest in flashlights instead since candles are more likely to cause fires.
Make sure to clean your dishwasher's lint screens frequently.
Never leave any of your electrical appliances plugged in.
If you have pets, make sure that your appliances are either out of reach or off whenever unattended.
Immediately reach out to an electrician if something doesn't look right.
Choose an extension cord that can take the dishwasher's or heavy appliances' load.
Try not to overload those extension wires.
Don't leave such electrical appliances running unattended.
Make sure to invest in a good smoke detector, and keep a check on it regularly.
Lastly, if you ever come across a fire in your household, you should evacuate immediately. Fire can spread inside homes very easily so you have to be quick with the evacuation plan. Don't risk yourself and your loved ones; leave everything and try to get out at once if you ever across a fire.
Ask the Experts – 911 Restoration of Glendale
Looking for a professional fire damage restoration company in Glendale could be a difficult task, but 911 Restoration of Glendale makes it easy.
911 Restoration of Glendale has been serving the community for the past several years, and it is a reliable name when it comes to damage restoration or disaster management services. They have trained professionals  well-equipped to handle all levels of fire damages.
You can also call them for a consultation and fireproof your home to stay cautious and be prepared well ahead of time. 911 Restoration of Glendale has a response time of 45 minutes, so you know you are in safe hands when you call them.