Can a Kitchen Fire Damage Your HVAC System?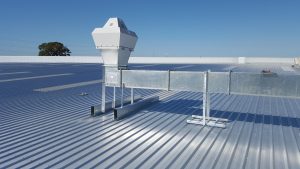 According to nfpa.org, 172,900 homes experienced fires per year due to cooking incidents between the years 2014 and 2018. This led to 550 civilian deaths and $1 billion in property damage per year. Granted that most of this damage was sustained by kitchen equipment, structure, and inventory, it's easy to miss other areas of the house.
For instance, most homeowners underestimate the damage done to their HVAC system after a kitchen fire. HVAC units, in particular, are prone to damage after ash, soot, and airborne particulate matter settles and clogs their moving parts. As a general rule, it is a good idea to hire fire damage restoration specialists to get your HVAC system checked.
Let's look at how kitchen fires can damage HVAC systems and what you can do for damage control.
Hint: Hire fire damage restoration specialists in Glendale immediately after a kitchen fire to minimize the damage done to your equipment and HVAC.
Smoke and Soot Does the Most Damage
HVAC systems play an important role in circulating clean air throughout the house. If the air is clear of pollutants, the unit does its tasks efficiently. However, smoke and pungent cooking smells will wear down the system over time. A small kitchen fire, on the other hand, can bring your HVAC unit to a halt.
Ash, in particular, is so minute in size that it can bypass HVAC filters and makes its way into the ductwork. This is where the damage happens.
Kitchen fires often burn grease, which, in turn, releases toxic smoke into the air. This smoke makes its way inside the air ducts of the HVAC system and is recirculated around the house. The pungent smell is the least of your problems – this is because it is toxic and causes your motors to run harder the utility bill to spike up.
However, the biggest concern is that some residents will find it difficult to breathe all this contaminated air riddled with toxins and pollutants.
Residue From Fire Extinguishers Are Also a Concern
Fire extinguishers are more than just for putting out fires. While they are effective at containing minor kitchen fires, they can also damage your HVAC unit.
Most fire extinguishers release a fine powder that gets into everything – from the kitchen equipment and electronics to the air, and from there, the HVAC unit. The HVAC system picks up the powder and spreads it around the house by pumping out contaminated air. This is why it's important to call a fire damage restoration specialist in Glendale after a kitchen fire.
Failing Components
With the HVAC systems clogged and unable to do their job, the refrigerant system has to run at a higher pressure to regulate the ambient temperature. This can lead to equipment failure.
You can prevent this by scheduling regular maintenance to reduce soot buildup. If the soot isn't removed from the air ducts, it will continue to damage your equipment. Moreover, the contaminants will cause the system's components to work harder to keep the space comfortable. The harder your unit has to work, the higher your energy and maintenance costs and the more electricity it requires to operate.
Since each component gets more strain, it will wear out faster.
Reduces Air Quality
All HVAC systems have air filters in place. Their primary role is to keep contaminants and smoke out of the kitchen and the building. A kitchen fire can lead to a rapid buildup of soot and ash that is quickly recirculated around the house. Their quality issue becomes even worse if you close your windows before turning on the HVAC.
In some cases, you could open the windows before turning on the units and run the HVAC for a few minutes to allow for adequate ventilation.
Why it's Important to Act Fast After a Fire Damage
The sooner you schedule a consultation with fire damage restoration services, the better.
These professionals will perform a thorough evaluation of your HVAC system to check for grease, smoke, and debris after a kitchen fire. This will lead to the most efficient way to save your HVAC unit and prevent the need for expensive repairs. If you act fast enough, you may not have to spend excessive money on an HVAC replacement.
If your kitchen was equipped with water-based fire fighting systems, then you may also have to contend with water damage. Without help from a professional water damage restoration service in Glendale, the risk of mold gets worse with time.
Water damage allows mold spores to grow. These spores are then circulated throughout the house by the HVAC system. That small kitchen fire may have inadvertently contributed to a mold problem for the entire building. The best way to minimize damage after a kitchen fire is to call in an expert right away.
We understand that going through a kitchen fire can be a traumatic experience, but you don't have to be alone. Contact the experts at 911 Restoration to schedule an estimate and get our dedicated crew in Glendale to review your case.